January 2014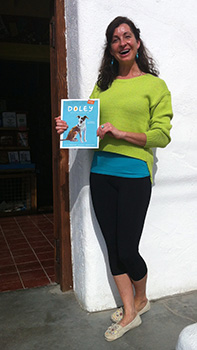 Doley, my best friend and traveling companion, passed away a few years ago. These days, I get a kick out of traveling with Doley in a new way: filling my suitcase with Doley books and traveling to different towns, cities, and countries to share this delightful book! Our recent trip to El Tecolote Bookstore in Todos Santos, located on the southern tip of the Baja Peninsula, is particularly memorable.
Kate, the owner of El Tecolote, is a big dog lover. When I arrived, Kate and I went directly to the local veterinarian to pick up her most recent street dog rescue, Lola. Lola had been hit by a car and left with an untreated broken leg. The leg became infected and required amputation. Kate took this sweet dog under her wing, paid for the surgery, and nursed Lola back to health in her recovery. Already a mom to four other rescued street dogs, Kate was hoping to find a home for Lola. Her devotion to helping street dogs is so great that the front display table in El Tecolote Bookstore doubles as a wooden crate for dogs in need of adoption!
If you find yourself in the beautiful town of Todos Santos, in Southern Baja one day, visit El Tecolote Bookstore.